Lakeland Car Accident Lawyers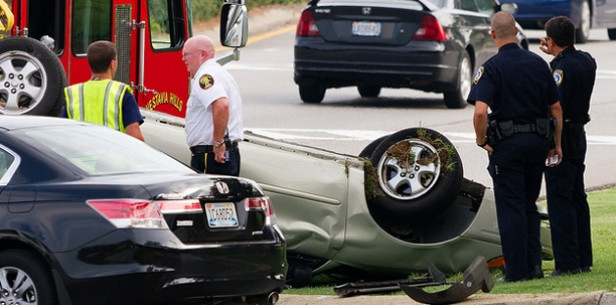 According to the National Highway Traffic Safety Administration, in 2007 there were 6,024,000 police reported traffic accidents. In those accidents there were approximately 1,711,000 injuries and 37,435 fatalities. The attorneys at Brush & Coyle are aware of these shocking statistics and they know how an automobile accident can adversely affect all aspects of a person's life.
When you have been injured in a car accident through no fault of your own, Florida law recognizes your right to be compensated for your personal injuries and for property damage to your car. Additionally, since Florida is a No-Fault state, your medical expenses and lost wages are covered by your own Personal Injury Protection insurance.
Property Damage Caused By A Car Accident
Under Florida law, the at fault car owner is required to carry a minimum of $10,000 of property damage coverage. Following an accident, the attorneys of Brush & Coyle can help you in either having your car repaired, if possible, or obtaining the actual cash value of your vehicle if it is deemed to be a total loss. You may also be entitled to a rental car while your vehicle is being repaired and, if your vehicle is a total loss, you could be entitled to payment for the loss of use of your vehicle until it is actually declared a total loss. Our attorneys can assist you in obtaining the appropriate compensation for these matters.
Personal Injury Protection
In most cases, owners of automobiles in Florida are required to have $10,000 of Personal Injury Protection (PIP) coverage. This type of insurance is also known as No-Fault insurance. This means that even though you may not have been at fault for the accident, your insurance company is initially responsible for your medical expenses and lost wages. PIP will pay up to $10,000 of reasonable, necessary and accident related medical expenses at 80% and PIP will also pay 60% of lost wages that are sustained as a result of missing work due to the accident. Our attorneys can assist you with your PIP claim as well as help you find appropriate medical care and rehabilitative treatment.
Personal Injuries From Car Accidents
Typically, a person injured in a car accident can make a claim for compensation for their damages against the at fault party's insurance company. In general, the damages would include pain and suffering for any permanent injury sustained in the accident, unreimbursed lost wages and out of pocket medical expenses not covered by their PIP coverage. If the claim is cannot be settled, the attorneys of Brush & Coyle can file a lawsuit against the at fault party to pursue appropriate compensation for your damages.
If you have been injured in an car accident, the lawyers of Brush, Pujol & Coyle can help you. Our lawyers have handled car accident cases in Lakeland and throughout Central Florida. Our attorneys and staff will investigate your claim and help guide you through what can be a difficult and trying experience. Call Brush, Pujol & Coyle at 863-603-0563 to see if our attorneys can assist you with your car accident.